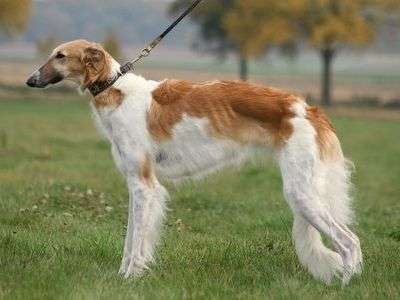 The Barsoi is an old Russian race, the name "Psovaja borzaja" means fast, quick. The tsars owned huge breeds with hundred of dogs for big hunting events.
Usage
Dog for hunting of rabbits to wolves. Today dog for accompanying.

Nature and behaviour
The Barsoi is a calm, reserved, unpenetrant, not very shy dog. The Barsoi is very faithful and loyal, with regard to persons, sensitive, but never gives up its personality. In its own group easy to get on with, not patiently against other strange dogs, but aggressive on its own, watchful and ready to defend, too.
The Barsoi is a passionate, wild hunter.

Further information
The Barsoi got silky, long hair, curvy or curly, especially on the neck, on the under breast and on the tail. This dog can be coloured in white, gold with a touch of silver, red and black with dark fang, also grey with dark stripes. With darker coloured dogs a black mask is typical.
The Barsoi was the prefered dog by the Russian noblemen. At the beginning of the 19th century there existed not nearly a farm without it.
Many authors name as first picture of a Barsoi the hunting scenes showing fresco wall-painting of the Sophien cathedrale from 1037 in Kiew. Several base forms cannot be excluded how the general history of Russian Greyhounds assumes. The breed of Barsois flourished until 1861. Only when the "Imperial Society of increasing hunting dogs" in 1873 in Moscow was established a new Barsoi breed began, which was much more refering to the sport aspect. In the year 1931 the first Barsoi ran in the Federal Republic of Germany on the racecourse. If the Barsoi ist in good shape, it can reach with clever training speeds upt to 50 km/h.

Keeping
The Barsoi is hard to please in regard of breeding, the Barsoi needs much very much space for running and free movement. This dog race is intelligent and docile. The Barsoi can be raised very well with appropriate sensitiveness or so to speak sure instinct and loving consequence. Obedient, but face to face to game the Barsoi is hard to control. Possibility to move is necessary for this dog, especially appropriated for races in the woods, Coursing, riding horses, riding bicycles, joggin et cetera. No dog for idle people. The long hair needs regular care.

Look
The Barsoi is the only race of the five Russian Greyhound races (Barsoi, Chortaj, Southrussian Greyhound, Tazy, Taigan) which was spread worldwide. The Barsoi seems to be very noble and precious. Its nature is reserved and calm. In case of a fight the Barsoi is a brave enemy. This race becomes from 70 up to 82 cm high, which should not influence harmony and speed. The Barsoi owns a long, deep and flat breast. The head is also very long, slim and fine. Mostly the eyes are dark and almond-shaped. For continuously fast running long, strong and muscelous legs are responsibel.